Unit block fire door upgrades with
Fire Rate®
You Get a Better Rate with Fire Rate®
Sydney fire door installation services. Failed fire door, frame and hardware specialist.
Unit block fire door upgrades with Fire Rate®
Non-rated unit entry doors with timber or non-rated steel frames, Fire Rate specialise in removal of existing non-rated doors & frames. Custom measured & fitting new fire rated safety doors with steel backfilled frames to suit existing door opening sizes.
We provide owners a range of options to maximise their unit entry door opening sizes.
Options of primed zinc, galvanised & stainless steel frames.
Options for fire doors painted to your colour choice. Custom timber veneers & kick plate options.
Options for compliant locks, closers, spyholes, perimeter door smoke & drop seals. Options for added hardware to suit their buildings compliance needs, budget & style.
Painting/staining options or have Fire Rate install & use your own painter.
Keying alike options for locks if two locks are requested per unit entry fire door, so one key will open both locks for that door only! Or keying alike for service cupboard fire doors,  so one key will open all service rated doors.
We provide additional keys, security keys that cannot be re-cut for tenants & master keys to owners.  Custom & durable timber veneers & steel linings/cappings.
Get what you want for a fair deal.
Contact us today for secure, tested, tagged & certified trouble free fire safety doors & frames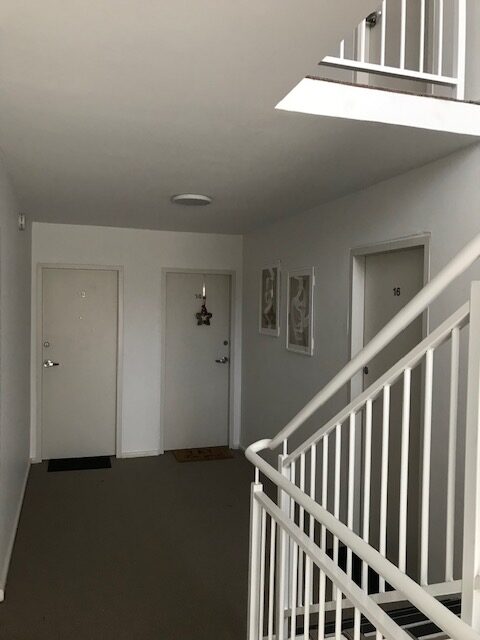 Fire door upgrade services for residential and commercial building requirements – Apartment entry fire doors, fire stair doors, final exit doors, tight fitting solid core doors, smoke doors, non-combustible lined service cupboard doors, steel sheeted security doors and custom veneers. Send us your requirements.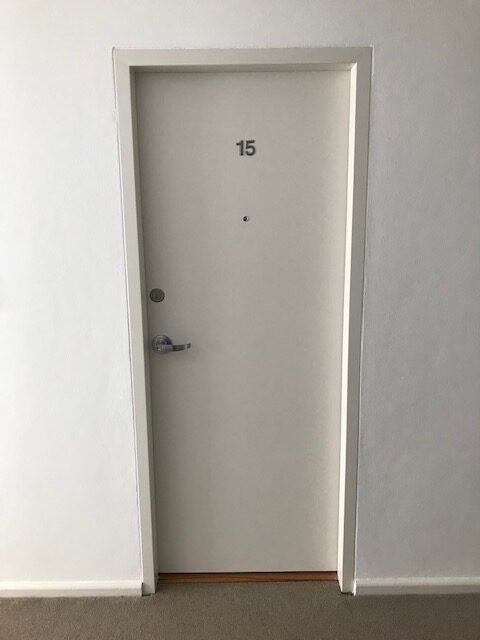 From basic budget compliance style & budget. We provide options for budget upgrades to existing buildings.
We discuss with our clients steel fire door frames or with new steel frames. We give existing frame hinges a service, remove and reinstall existing compliant lock(s), closers and accessories. Or we can supplyhere buildings Fire Safety needs and install new compliant hardware and smoke seal options.
Fire Rate Levels from; 30 minutes – 240 minutes. Range of internal and external timber veneers to match existing doors.
New steel sheeted doors and/or new steel frames in; Zinc, Galvanised and Stainless Steel.
Our installations are strong, safe and secure. Tagged and certified to Australian Standards with warranty.
Replace & repair broken or torn door frame hinges
Full door & frame replacements
Repairs to existing fire door hardware
Replacements of fire door locks & Closers
Delaminating Door Repairs
Binding Door repairs
Existing Fire Door build-ups, to reduce excessive fire door gaps
Fire door Frame build-up
Non rated steel door frame conversions to comply as fire rated frames
Fire door gap reducers, for excessive side and head gaps of failed fire doors
Fire Door Closer adjustments, repairs & replacements
Fire door kick plate installations & repairs
Sequence selector repairs & replacements
Fire door pair head & bottom latches
Rim night latch repairs & replacements
Hold open closers & free arm closer installations, replacements & repairs
Fire door signage
Fire door split repairs
Tight fitting door repairs
Fire door latching repairs
Unit entry fire doors
Fire stair and final exit doors
Service cupboard fire, smoke and non-combustible doors
Single and double door (Pairs)
Frames, locks, closers and accessories
Our unit block needed several door repairs and some new doors, that our current fire inspection company failed. Fire Rate were better on price and now our doors look and work great. They even fixed my bathroom door.
We have 3 carpark fire exit doors that had some rust and water damage and they never closed or locked properly. We engaged Fire Rate to fix them & now they self-close and lock every time and our building is secure.
Here are some frequently asked questions about fire door upgrade service
What is a fire door?

A fire door is a door that is designed to prevent the spread of fire and smoke between different areas of a building. It is made of materials that can withstand high temperatures and has a seal around the edges to prevent smoke from entering.

What is a fire door upgrade?

A fire door upgrade involves removal of the existing non-rated frame & door. Installing a heavy duty steel backfilled fire door frame and fire seal to the existing rated wall. We change over door systems to Australian Standard compliant tagged and certified fire safety doors, that greatly improve the safety, security and property valve to existing buildings. 

Why might I need a fire door upgrade

If your existing apartment entry doors and frames are timber are not functioning properly or do not meet current safety standards. Upgrading your fire doors will help to ensure that they are effective in preventing the spread of fire and smoke. Providing a safe path of travel to escape.

We have to upgrade all our unit doors to rated doors and laundry doors. This will cost a lot. How can we get out of this?

All residential properties sharing a common area to exit the building should have fire doors. It will add property valve and secure the people and property within the building. Fire Rate work will body corporates/strata that have spread the replacement process over a few years to assist with the costs. Unless your local council has set timeframes to complete we offer this spread out service and we can customise to your needs. We can also forward company letters that can be passed onto council or fire consultants to request extensions to complete the upgrade.

Can I upgrade my own fire doors?

Fire door upgrades should only be carried out by experienced qualified technicians who have extensive knowledge and  experience working with fire doors. Attempting to upgrade your own fire doors can be dangerous and may result in non-compliance with safety regulations and end up costing a lot more. Call us today for a company looking to solve your fire door issues and problems.
Fire Door Upgrade for New Installations & Certifications.
Please fill in your fire door needs below or call us: 8.30am – 5pm Monday – Friday:
1300 850 960.