Fire Door Installation Services
You Get a Better Rate with Fire Rate®
Sydney CBD fire door company that cares about your safety and building security as much as you do! Tags, Certification, Warranty and Security.
Secure Your place with Fire Rate®
Custom made and fitted safety fire doors to existing steel frames or with new steel frames. We give existing frame hinges a service, remove and reinstall existing compliant lock(s), closers and accessories. Or we can supply and install new compliant hardware and smoke seal options.
Fire Rate Levels from; 30 minutes – 240 minutes. Range of internal and external timber veneers to match existing doors.
New steel sheeted fire doors and/or new steel frames in; Zinc, Galvanised and Stainless Steel.
Our fire door installations are strong, safe and secure. Tagged and certified to Australian Standards with warranty.
Installed correctly to ensure a long trouble free fire door life.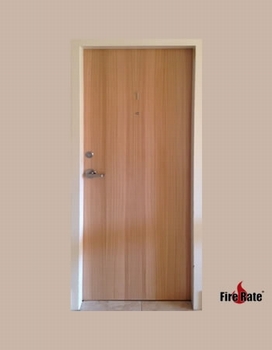 Find out how we can save you and keep your place secure. We promise a competitive obligation free quotation on failed or damaged safety & fire doors to suit your building's security, style, budget and needs. Secure safety doors and frames for Apartment Entries, Fire Stairs, Paths of egress, Emergency exits and External doors, Car park exits, Electrical Meter rooms, Service cupboards and access panels.
Strong and secure Fire Safety Doors custom made in Sydney Australia with a range of veneers, additional lock and sound plates provides quality safe and secure fire safety door upgrades across Sydney to comply with current Australian Standards.
Complete installation services including painting/staining, signage, tagging, certification and warranty. New fire door to existing rated frame or complete fire door, frame & hardware upgrades available. Remove & refit existing complaint hardware or customising new locks, closers and accessories to suit your buildings requirements, style and budget.
Apartment entry fire doors, fire stair doors, final exit doors, tight fitting solid core doors, smoke doors, non-combustible lined service cupboard doors, steel sheeted security doors and custom veneers. Residential, commercial and industrial fire door services. 1 hr(-/60/30) to 4 hr(-/240/30) door ratings. Custom made fire door frames to suit brick, block, concrete, hebel and rated plasterboard wall systems. Cast-in and retro-fit frames/doors.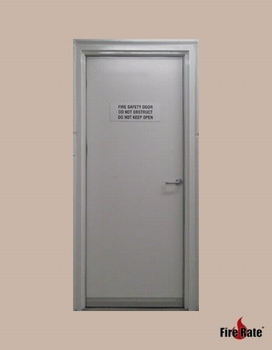 Fire Door Options
Primed zinc, galvanised and polished stainless steel frame and door options. Small access doors, standard doors, large doors, standard pairs and large pairs, Fire Rate customise fire safety fire doors and frames. Lever locks, panic bars, closers, smoke seals, security peep holes, door numbers, threshold plates we offer the lot.
Installing fire doors is precision work, that requires a licenced trades person with considerable knowledge, experience and understanding. Our expert installation team ensure quality installed fire safety doors to avoid customers dissatisfaction.
We specialise in unit entry fire door replacements to match existing fire doors or carry out complete fire door, frame and hardware upgrades. Plus fire safety doors to fire stairs, external steel sheeted doors, Service cupboards, non-combustible lined doors, smoke doors, singles and pairs, for Small – Medium projects.
Need professionals to install fire safety doors?
We assist fire protection companies and others that want a fast reliable fire door installation. Trade discounts, with warranty and certification. Fully insured. Guaranteed customer satisfaction. So if you are either a Fire Protection Company, Strata, Body Corporate, Owner, Building Manager, Maintenance Company, Real Estate, Handyman, Builder or Developer that wants the job done right every time, without the hassle of unhappy customers. Try the fire door trade professionals, you won't look back!
Fire door installation services for residential and commercial building requirements – Apartment entry fire doors, fire stair doors, final exit doors, tight fitting solid core doors, smoke doors, non-combustible lined service cupboard doors, steel sheeted security doors and custom veneers. Send us your requirements.
These days it's difficult to find competent and reliable tradesmen. Fire Rate were true to their word with competitive quotes, on time and performed quality work on multiple installations. Highly recommended.
Fire Rate, a Company small enough to care but big enough to get the job done well.
Fire Rate recently successfully replaced 14 sets of fire rated doors including door hardware and 6 sets of fire rated steel door frames for a Fire Safety Upgrade project for a block of units in Freshwater. Fire Rate was very helpful in ensuring the new doors and hardware met the technical fire rating specifications required & they worked well with the building tenants to ensure minimum disruption. We are happy to recommend Fire Rate
Our Fire Door Installation Services Include
 Initial Site Inspection
 Confirmation of measurements
 Custom manufacturing of door(s) to Australian Standards
 Installation Scheduling & Booking
 Removal & Disposal of old or non-compliant door
 Painting or Staining Door(s) (optional)
 Tagging & Certifying Installed Door(s)
Fire Door
Installation Options
 Single to volume door installations
 Custom sizes to measure
 Budget Installations
 Complete fitouts
 Choice of hardware quality
 Choice of door finishes
 Range of patten styles
Warning!
Poorly hung fire doors, risk lives, property, building security and on-going maintenance costs. Our installations are done correctly the first time and every time. Save on maintenance in the future.
Fire Rate® Fire Door Installation Guarantee
All fire door installations are guaranteed for twelve months – Subject to misuse or vandalism. In fact most of our doors have not needed any repairs or maintenance since installed over the company's history.
Rest assured you have made the right choice with Fire Rate®. We'll ensure maximum security, professional hanging, regulation gaps, service hinges, adjust closers & carry out a full safety check of the new fire doors & frames for long life trouble free fire doors.
Fire Rate® issue a fire safety door Schedule & Fire Door Certification Certificate with every installation. Fire Rate® compliant fire door & frame tags and certificates for building & local councils records!
Fire Door Installation FAQ's
Here are some frequently asked questions about fire door installation services
How long does a new fire door take to install?

On a standard size door generally around two hours per fire door to existing frame + painting. Normal manufacturing lead-times are around 7-10 working days. If new frame and fire door required - around 4-5 hours per door set + painting.

How much does it cost to install a fire door?

The cost of installing a fire door can vary depending on several factors, including the size and type of fire door, the complexity of the installation, and the condition of the existing frame. In general, however, most installations cost between $1,000.00 - $1,500.00 per door

How many fire doors will be installed per day?

Pending the door(s) locations, parking and access, generally 4-6 doors per day. If fire door and frame upgrades - generally 2 sets per day.

Will my new fire door come with tags and certification?

Fire Rate provides compliance tags and certification for your building's records. We stand by our doors and installations to deliver trouble free secure fire safety door systems. 

Does Fire Rate stain and/or paint new fire doors and frames?

Yes we do. We offer a painting option that gives our customers the option to add our paint service or engage your own painter once the door system has been installed.
Enquire online on your fire door installation requirements
or call 1300 850 960
Supply Only, Fire Door Inspections, Repairs, New Installations & Certifications.
Please fill in your fire door needs below or call us: 8.30am – 5pm Monday – Friday: 1300 850 960.