Fire Door Inspection Services
Fire Rate® inspect, test and report Sydney's CBD fire safety doors. Certification. Competitive repairs and replacement services.
We offer specialised fire door, frame and approved hardware inspections of new or existing fire safety door systems. Fire Door inspection service, catered to your building's safety door needs.
Fire Rate offers a professional door inspection service with the best way(s) to save on upgrades and get compliant. Gap repairs, hinge repositions, rust repairs and hardware replacements. We fix on the spot minor door problems at the time of inspection to save on added unnecessary costs and additional call-back fees.
If a repair or replacement door, frame or any hardware is required, Fire Rate provides a detailed report and highly competitive quotation for fire safety door compliance. Our inspection services are primarily contracted to: Fire protection companies, Body corporates, Strata's, Building managers, Factories, Home Extensions, Builders, Developers and the General Public for residential, commercial and industrial buildings.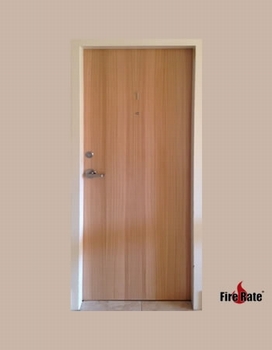 Fire safety door inspection services for residential and commercial building requirements – Apartment entry fire doors, fire stair doors, final exit doors, tight fitting solid core doors, smoke doors, non-combustible lined service cupboard doors, steel sheeted security doors and custom veneers. Send us your requirements.
We're making inspections easy
Fire Rate® strive to make fire door inspections as easy a process as possible. Arrange for a fire door inspection in normal business hour or afterhours inspections also available. Simple, clear professional fire safety door inspection solutions based on expert knowledge.
We perform minor adjustments & closer speed with every inspected fire door, as part of our inspection, testing & certifying service. If found that any fire door(s) require other repairs or replacements, Fire Rate will report the defect(s), provide a quotation to carry out these repairs/replacements & issue a current Fire Safety Statement for:
Fire doors
Exiting doors
Smoke doors
Non-combustible doors
Solid core doors
Save property, lives and money with Fire Rate®.
Quick note to say thanks Fire Rate for the efficient fire door inspection service of our high-rise building in town. I was impressed with your information & competitive repair/replace service. We will use you again.
Efficient fire door inspection service!
Fire Rate now inspect our fire doors and we have saved a lot since engaging their annual fire door inspection service. Friendly staff and our doors don't slam shut any more. What a difference!
Thank you team!
Fire Door Inspection FAQ's
Here are some frequently asked questions about fire door inspection services.
What is a fire door inspection?

A fire door inspection is the process of verifying that a fire door meets the relevant safety standards and regulations. This involves inspecting the door's components, such as the frame, hinges, seals, and other hardware, to ensure that they are in good condition and functioning properly.

How often should fire doors be inspected?

Fire doors should be inspected at least once a year by a qualified technician. Some fire doors require inspecting every 3 months - Pending the building type, size and volume of people within. 

What happens if a fire door fails inspection?

If a fire door fails inspection, it must be repaired or replaced as soon as possible to ensure that it is effective in preventing the spread of fire and smoke.

Who can perform fire door inspections?

Fire door inspections should only be carried out by experienced qualified technicians who have extensive experience working with fire doors. Attempting to inspect your own fire doors can be dangerous and may result in non-compliance with safety regulations.

What is involved in a fire door inspection

A fire door inspection involves inspecting all of the components of a fire door to ensure that they are in good condition and functioning properly. Any necessary repairs or replacements should be carried out at this time.
Supply Only, Fire Door Inspections, Repairs, New Installations & Certifications.
Please fill in your fire door needs below or call us: 8.30am – 5pm Monday – Friday: 1300 850 960.